eCommerce Website Design Lagos Web Development
63 Web Studio is a Lagos-based web design company focused on creative and innovative solutions that help businesses thrive. Our passion is to provide innovative, highly functional, visually appealing and feature-rich web designs for businesses in Nigeria and beyond. Read information about our Ecommerce Website Design, Multi Page Website Development and monthly affordable Website Maintence services.
We hold ourselves to the highest standards of creative and technical excellence which is evident in our portfolio of international standard websites – see for yourself on our Website Projects page.
eCommerce Website Designers Nigeria – FREE Consultations
Established in 2018 on Lagos, Nigeria, we are a team of young website design experts, project managers and business developers, our portfolio of European standard websites differentiates us from other web designers in Lagos. Discover our website building costs and call 0812 949 6583 to speak to our team contact us or send a Message Online to claim your FREE consultation today.
Your brand vision is unique, therefore, we take our time to understand this vision so we can build a website that helps you reach your goals. Relationships with our clients are lifelong partnerships. We would very much love to be a part of your success story.
The web design industry in Nigeria is crowded. Therefore, It is difficult to make a choice among all the web design companies you find. Here are some reasons why many people trust us;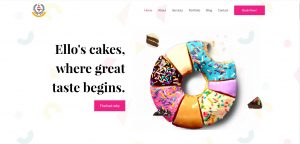 Website Design Agency – Customer Satisfaction
We aren't happy with our creation until you are. Therefore, our Project Management team takes the time to understand your objectives thereby creating a website that helps you achieve them. Check out our helpful website blog posts to learn more.
Creative Web Development Delivered in 2 Weeks
Punctuality is the soul of business and we know a website is your business's foremost marketing tool. We have a team of 5 experts on every website design project, consequently, you get your website within 2 weeks. Isn't that speedy?
Curious marauders that we are, we roam the internet for beautiful UI & UX. Hence, we give you amazing plugins and a unique yet trendy website. We help you stand out!
Website Branding Online Sales and Profit
A website is the heart of your brand online. It brings every aspect of your business together on the internet. It helps you manage, distribute and share your content more efficiently. Website Design undoubtedly helps you improve your organization's image and build rapport. It's often the first place to start, whether you're changing your company's brand image, launching a new product or you're aiming for a responsive site.
The 63 WebStudio philosophy is delivering web designs that anyone can understand. Our mantra is we design websites that help businesses thrive. Importantly, for businesses to thrive, they need marketing tools that tell comprehensive brand stories to their target audience. We deliver this in the form of amazing websites that help businesses achieve their goals.
Click to read our up to date website building costs or call 0812 949 6583 to speak to our friendly team. You can also contact us by sending a Message Online to claim your FREE consultation at your convenience.