63 WebStudio is proud to have been one of the lead presenters at the workshop on Communication Training and Mediation in the Digital Era for French Alliances and Institutes in Nigeria which was held at the Retro Gallery, Abuja. The event was organized by the Institut Français du Nigéria (IFN).
The workshop was animated by Anne-Lise Vinciguerra from Illusion & Macadam and our project management lead, Mirabella Inegbenose.
The presentation highlighted the importance of the top communication channels in Nigeria which include Facebook, Instagram, TikTok, Snapchat, Twitter, LinkedIn, and YouTube.
WHY ARE THESE COMMUNICATION CHANNELS IMPORTANT FOR DIGITAL COMMUNICATIONS IN NIGERIA?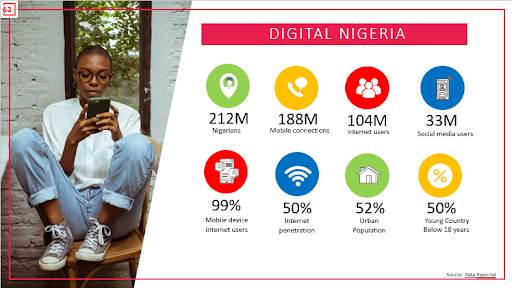 FACEBOOK
Has the largest reach for advertising on social networks in Nigeria.
Have been gathering data since 2004 and continually study our Nigerian customer behavior.
Most Nigerian Brands look to Facebook for their advertising depth and analytics for customer conversion and awareness.
INSTAGRAM
Most Nigerian B2C brands advertise on Instagram as it engages one of the strongest senses- the sense of sight.
Reels is king- appears on explore page and can reach a larger audience aside from the brand's following.
Half of the population in Nigeria is below 18 years and mostly active on Instagram.
Hashtags help reach a larger audience organically.
YOUTUBE
Gradually replacing the traditional television in Nigeria.
It is a way to store memories and events as a brand and can help give the audience access to events live virtually.
It's growing bigger in the entertainment industry with top artists like Wizkid, Burna, Johnny Drille, and many more holding virtual concerts during the Covid-19 Pandemic.
TWITTER
Although recently banned in Nigeria, Twitter is a platform for connecting to what is trending as a brand and disbursing information at high speeds.
It is both informational and entertaining.
SNAPCHAT
Wildly popular among millennials due to its filters, as, unlike the older generation.
Can be used to offer the target audience access to Live Events.
Great for advertising coupon codes that expire in 24 hours BUT poor audience quality.
TIKTOK
TikTok has also seen an increase in popularity as many Nigerians have been engaging in various video challenges on the app. For instance, the #Bopdaddychallenge and #dontrush challenges that went viral.
Great for introducing music to the public and making it popular.
Home for fun content.
Blew up during Covid-19 in Nigeria.
Nigerians mostly discover TikTok on other social media platforms.
LINKEDIN
Great for service-based businesses in Nigeria.
Educational, inspirational, and formal content.
Used for announcing events, job openings, CSR initiatives, etc.
Used for personal branding of top management promoting the brand in a subtle way.
WEBSITE
Nigeria is going digital- help your audience find you.
Increases your organization's credibility as it holds more reassurance than other social media networks except a brand is verified.
Free organic traffic, when you're online and have an SEO-optimized website, you have a chance of showing up in Google search results and can optimize Google My Business in Nigeria.
A website runs 24/7, it's easy to post updates and announcements to your customers.
Your website plays an important role in your email marketing.
GOOD SOCIAL MEDIA PRACTICE
The need for a good social media practice was accentuated.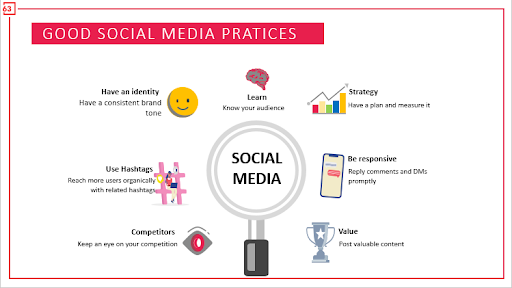 The good social media practices include:
Have an identity – develop a consistent brand tone.
Strategy – Have a good plan and measure it.
Use Hashtags – Reach more users organically with related hashtags.
Be Responsive – Reply to comments and inboxes promptly.
Study Competitors – Keep an eye on your competition.
Create Value – Post valuable content.
THE 360 APPROACH
The internet, more than ever, is an important tool for the growth of Nigeria. Today, social media and websites work together. We believe that if you want to grow a business or a personal brand in the language and cultural sector in Nigeria, you need to actively be involved on social media, be on the web, have blog articles, etc.
It's a 360 approach that brings legitimacy and will in turn help you reach a larger audience which will drive in clients or fans, depending on what you are looking for.
We are grateful to the Institut Français du Nigéria for this opportunity.
63 webstudio is a web design agency located in Victoria Island, Lagos, Nigeria. The company specializes in website design, eCommerce, UI/UX design, and website maintenance. We serve both B2B and B2C local and International clientele. We help to build websites that help businesses thrive.